The People & Their Neighborhoods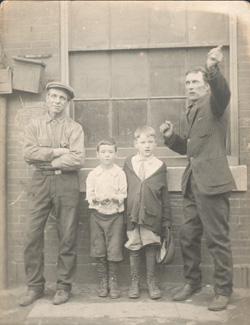 John Frank Keith, Two men and two boys in front of factory window, gelatin silver print on postcard mount, Philadelphia: ca. 1917.
John Frank Keith did not record the names of his subjects or exact locations of his photographs. Aside from a few images that have been identified by manuscript notes or living descendants of the subjects, we only have our imaginations to complete the narratives Keith started.
Looking at the subjects of John Frank Keith's photographs, we can gather information about the lives of these Philadelphians. Considering that many of Keith's images were taken during difficult economic times (e.g., the 1929 stock market collapse that led into the Great Depression) it is no surprise to see some children wearing sweaters with holes or clothes that may not fit properly, signs of reuse as a hand-me-down.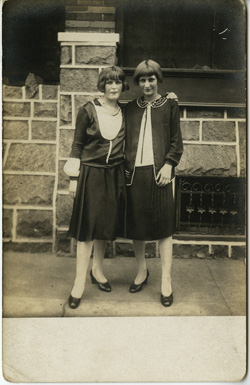 John Frank Keith, Two women standing in front of stone porch, gelatin silver print on postcard mount, Philadelphia: ca. 1931.
Many sitters, though, are dressed in their finer outfits - intricate trimmings on shiny fabric, polished shoes, and jewelry - likely for a special occasion, such as a date, a dance night, an anniversary, a religious holiday, or even a photo opportunity. The range in clothing indicates that in the working-class neighborhoods of South Philadelphia and Kensington there was a wide spectrum of financial well-being.
The doorways, windows, and walls in front of which Keith's subjects stand also reflect this economic diversity. Some homes are depicted in obvious disrepair (crooked shutters, graffiti, peeling paint), perhaps due to their age or the owner's lack of financial resources to make cosmetic improvements. Contrastingly, other homes have more elaborate and better maintained facades, such as stained glass windows and carved wood doors with polished hardware.
Industrial jobs prevailed in South Philadelphia and Kensington in the early 20th century, but families also ran "Mom and Pop" grocery stores and specialty shops. Men often found work as longshoremen loading and unloading cargo along the Delaware River, getting paid by the job available on a given day. Women worked on assembly lines at local factories, producing goods such as hosiery, textiles, rope, and nails, and in distilleries. When work wasn't to be had or when the workday was over, neighbors would walk around or pass the time on front stoops, as seen in many of Keith's photographs.
These neighborhoods experienced an influx of immigrants in the late 19th and early 20th centuries. English, German, and many Irish immigrants constituted the bulk of the foreign-born population in the late 19th century. By the turn of the 20th century, these communities were joined by large numbers of Russian, Polish, Lithuanian, Italian, and Jewish newcomers who settled prior to World War I. Keith's photos do not deliberately draw attention to this diversity. The few postcards with manuscript annotations include names such as Krause, Schmidt, McGuigan, and Ferricola, evidence of the German, Irish, and Italian populations that settled in Philadelphia. However, portrayals of distinct ethnic and racial populations, including African-Americans, are not apparent in Keith's work.
The strength of Keith's images in reflecting the history of these people and their neighborhoods lies in his depictions of family and friendships. Throughout his portraits, a certain emotional intimacy comes through in the physical closeness and expressions of his subjects. He captured parents doting on their youngsters, siblings holding hands, and teenagers exhibiting relationships that would carry them into adulthood. The hundreds of faces and facades documented by Keith provide a fascinating display of the social fabric of the neighborhoods of South Philadelphia and Kensington in the early 20th century.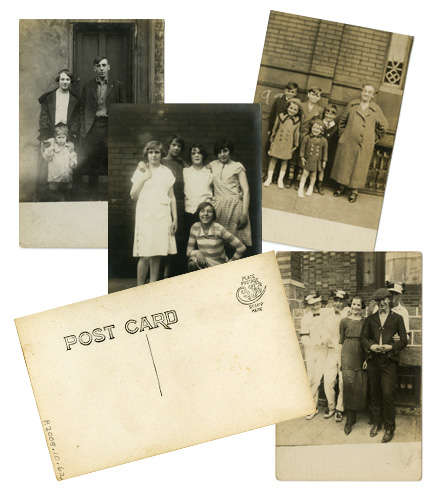 Sources:
Dubin, Murray. South Philadelphia: Mummers, Memories, and the Melrose Diner. Philadelphia: Temple University Press, 1996.
Seder, Jean. Voices of Kensington: Vanishing Mills, Vanishing Neighborhoods. Ardmore, Pa.: Whitmore Publishing Company, 1982.
Sitarski, Stephen M. "From Weccacoe to South Philadelphia: The Changing Face of a Neighborhood." Pennsylvania Legacies, vol. 7, no. 2 (November 2007): 6-13.
Weigley, Russell F., ed. Philadelphia: A 300-Year History. New York: W.W. Norton & Company, 1982.
This online exhibition was curated by Charlene Peacock in the summer of 2009 with support from the Samuel S. Fels Fund.
This website was designed by Nicole Scalessa.