Temperance advocates entered the political arena and created turmoil with demands for the control of alcohol. Of course, it was difficult for the American government to balance ideals of personal freedom with responsibilities to citizens. The "Maine Law" of 1851 proclaimed an entire state "dry" and opened the door for a dozen other states to have some form of prohibition. It was at this time that the temperance movement shifted its goals from keeping people away from liquor to keeping liquor away from people. Of course, the temperance movement itself was characterized by a variety of political alignments: most temperance activists were also involved with the antislavery movement and later with woman suffrage, and different temperance organizations had different ideas of how best to achieve their goals.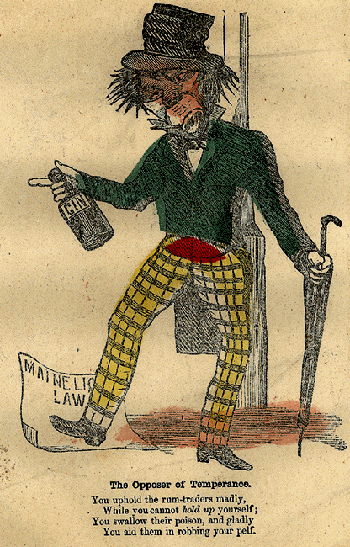 The Opposer of Temperance. Hand-colored woodcut. Philadelphia, circa 1855.
You uphold the rum-traders madly
When you cannot hold up yourself
You swallow their poison, and gladly
You aid them in robbing yourself.

This illustrated comic valentine shows a drunkard stepping on the Maine Liquor Law, which prohibited the sale of liquor in that state.

Exhibit Tour